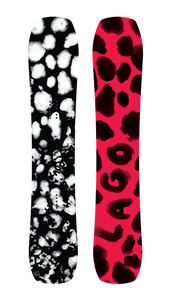 Customer Reviews
01/29/2023
Powder Hound (Open Road)
One of the most beautiful pieces of art ive laid my hands on! All love to the team at Lago!!
Sky A.

United States
01/16/2023
Best all mountain board
I grew up in sun valley idaho, where runs are steep and you can ride just about any kind of terrain, this board holds up to anything under it. I will be purchasing this board year after year.
Scott C.

United States
11/18/2022
Open roads on the distance!!!
Great board! Graffics are off the charts and so clean. Almost to nice to ride a must have!
Karl L.

United States
11/18/2022
POW ripper
Love the open road. Bought the 2017 open road and it has lasted until this year after several years of hard riding. Decided to go up to the 164 since I'm a 200 lb guy and that's the length that Scotty likes to rip! Can't wait my first deep day on this board. It's a fast board that lets you carry speed into powder sections to ensure you don't have to hike out if you lose speed.
John l.

United States
03/27/2022
Big Mountain Beast
I literally just got off the mountain @ Wolf Creek for my first runs ever on the Open Road 164. Plug & play feel just like my Double Barrel 156W. You just need to build a little more speed to start railing turns. And once you do, the race is on for sure. I am super confident at high speeds on the noisy hard groomers in the morning going supremely fast without any fluttering or squirrel like behavior. And later in the day it blew through the choppy spring snow like a good truck should. Snow is coming in a day or two and I know that the Open Road 164 is going to be killing the pow turns at high speed. Like I said "plug & play". One solid ride here folks!
Lindsey H.

United States
02/10/2022
10/10
Bought this board last season and never used it but I've logged almost 10 days this season and got to say it's amazing. Nice carving, perfect amount of flex!
Brennan

United States
02/07/2022
Feels really good
Rode this board at Jackson and surrounding area. Board felt great. Good stability. Good flex. Held an edge nice. Didn't really get to test it on pow, but was still impressed with its all mountain ability.
Joel F.

United States
02/01/2022
Lago Open Road 164 is a Beast
Absolute b-b-b-b-beast of a board. Incredibly fun to ride. Floats on powder like a dream and is much more responsive than I expected when I ordered a bigger board than I usually ride. Great amount of pop which leads to really fun off-piste/bowl riding, really great board to launch off of natural features with. Also, its such a unique but cool looking board, I'm in love. I've had a blast riding groomers on this as well, definitely hitting some top speeds while feeling like I could still control my edge perfectly. Overall, cant recommend it enough. I chose the open road mainly because I wanted a big powder board, but its easily become my favorite board to ride all around and is now my go to. The Lago team is also really responsive and helpful with support. Definitely support this company!
Charles P.

United States
01/11/2022
Open Road!!!
Love this board, great all around and even better in pow! Lago snowboards all day!
Kevin P.

United States