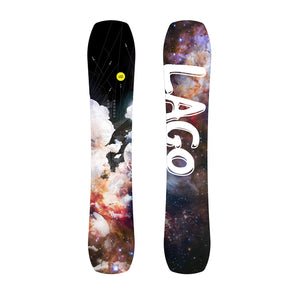 Customer Reviews
04/21/2021
Love this board!
I love the deck of this board and there are a lot of thoughtful touches!
John P.

United States
03/30/2021
Amazing board
Bought the open road for a all mountain powder focused board for a Japan trip in 2022. Of course had to bring it out this season to test it out and got lucky on a powder day here in Colorado and must say was super impressed. Super nimble and fast and hard charges through powder and carves hard on groomers. Highly recommend to anyone looking for a great board
Dustin d.

United States
03/17/2021
Best board I've ever ridden...and it's not close
I've logged 25 days this season, with 23 on this board, the other 2 on the Shred Stick. Night and day difference as you might might expect, with the Stick a reverse camber and the the Open an all-mountain camber. No one could have prepared me for what this board can do. My progression this season is nothing short of game-changing. This Open Road is just unfair. I pass people on the cat tracks that I couldn't keep up with before. I'm hitting side hits that I was too scared to touch. I'm even doing a park lap with complete confidence. Powder days are for surfing now. This board is sooo forgiving when I make mistakes. At speed, it's locked in. I've hit 47MPH according to Slopes, although I spend most of my time in the mid-30's when carving. My buddy's Orca split to shreds and this thing is still rocking the original wax job. Lago has my complete trust from now on. I want to try the Double-Barrel just to see the difference, but this Open Road is my go to every day, not just powder days.
Dave

United States
03/16/2021
Jason Alex
I love it. Feels solid on trail yet really flexible and nimble in the trees and in the park. For $450 bucks and free shipping?! One would be hard pressed to find a better deal. Keep up the good work boys!
Jason A.

United States
11/07/2020
Looks Amazing!
Just received my board and it looks and feels amazing! Never been more pumped for a season with a new shred stick.
Daniel G.

United States
09/30/2020
Open Road
Fit and finish of this board is on point, lively smooth buttery flex, nice shovely shape, rad graphic! Can't wait to try this baby out this year!
Richard M.

United States
09/04/2020
Open Road
Have yet to hit the snow but have done indoor practice, the flexibility is amazing. Gives me amazing pop, but besides the gorgeous design, I absolutely love how light this board is! This board and I are itching to get out on the POW!
Luke L.

United States
07/20/2020
Bill
Stoked to get this new board out on the snow this winter!
Will M.

United States
06/09/2020
On Point
Just got the Open Road in 156, Taka Sudo absolutely killed it with the design! Versatility is always paramount so I'm looking forward to shredding all over the mountain and seeing what this board is capable of. Definitely not way too stoked for next season..
Nick S.

United States