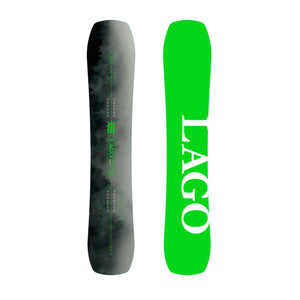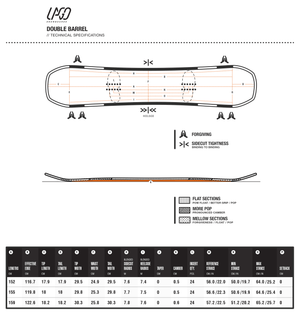 Customer Reviews
04/15/2021
THE WIDE MODEL IS A GAME CHANGER
I've got big *** feet, so for me personally the non-wide double barrel wasn't the greatest for carving. But with this wide model I can lock into my toe side and heel side carves way deeper than I could on my old 159 double barrel
Garet H.

United States
04/12/2021
Best Customer Service Experience I've Ever Had
Back in Fall 2020, I purchased the 152 DB and I absolutely loved the board from the moment I received it in the mail, especially the board design/graphic. It's now the end of the 2021 season and my love for the board still stands! Through the season i would have all my friends try the board too and they all wanted to switch boards with me pretty much the rest of the day. Board has great handling/pop in the park and also rides great/fast on normal runs. On my last day of Spring riding at Loon Mtn this past weekend, I noticed the center of my board was starting to delaminate a little bit. Understanding defects happen, I emailed the Lago team right away and continued on my way to ride. By coincidence, I ran into one of the Lago Team members (Tommy) who spotted the DB and stopped me at the bottom of LMP to thank me for the support. I showed him the issue with my board and he immediately apologized/asked what board size I was. He happened to have a new 152 with him in his car and he gave it to me right on the spot to replace my old one. He also had a park tool handy so I could swap my bindings quick and rip a few runs together. This was by far the best customer service I've ever experienced and I couldn't believe how it all worked out! Can't wait for the 2022 season with my new board and hopefully see more Lago boards on the mountains because they definitely don't disappoint. I'll definitely be a long time customer of this brand!! Cheers Josh
Josh R.

United States
04/07/2021
Awesome
Have not had the chance to shred with it yet but this board is sick. I love the look and feel, cant wait to let her eat!
Greg R.

United States
04/06/2021
Lago Double Barrel
This board is awesome. It rides like a dream. Its feels great maneuvering around the mountain. Riding switch was definitely easier than my previous board. It rode great through powdery tree runs even though it is a camber. The look of it, of course, is extremely dope. Really happy with this purchase.
Enrique L.

United States
03/29/2021
Perfect board
The 2021 Double Barrel is hands down the best board I have ever used. The wide boards are perfect for my massive boot and give me 0 toe drag. The board itself rides smooth on every surface and terrain. Couldn't be happier with Lago!
Scott S.

United States
03/26/2021
Such an amazing board‼️ All Mountain and park‼️
First off I'm on the West Coast and the shipping was on time and the board came super protected! Finally got to take the double barrel out to see what it could do. First Day was it about 9 inches of fresh pow and I immediately could tell how well balanced I was and how forgiving the board was! I mean it felt better than anything else I've been on in 13 years of snowboarding. I threw everything at it! It's super fast and holds an amazing edge like no other and the pop is unreal! First jump I sent myself flying! It's very easy to throw around in the park and in the air. It's stiff but not to stiff actually just right where I like it! Maybe a 6-10 on the stiffness. I stepped down to the 152 and I'm glad I did I'm 5'7"at 150 pounds. If you are looking for a board that will preform well in all mountain and park then look no further. You found it. It came with tuned edges and wax! I also got 10% off through Casy Willax. I wish I bought this board at the beginning of the season!! I'm already planning on getting the Shed Stick! LAGO snowboards is my now ride or die. Only thing that I'll ride for now on.
Tommy j.

United States
03/25/2021
Perfect board
Super stoked with how everything came out, very easy to to initiate turns and locks in carves, has a ton of pop and very stable on jumps. Cannot get enough thank you
Shahe T.

United States
03/22/2021
I've owned three and need more
Snowboarding is awesome and so is the double barrel! Started riding in 1999 and have gone through my fair share of boards ( multiple a season ), which could get frustrating and expensive. I have one mode when I ride and it is Go. I like to ride fast and jump off of everything the ice coast has to offer. The double barrel has massive pop and great edge hold. Already have owned three, two are still in commission and will absolutely get more next season.
Lucas L.

United States
03/19/2021
Love it!
I've been riding the 2021 Lago Double Barrel 152 for about 20 days now, I gotta say the thing is so sick! It can lay down super deep carves, has plenty of pop, and is super fun for hitting rails. Overall I am super stoked on the purchase, it's great for an all mountain freestyle board. The graphic is also amazing as well. I had a tiny issue with a little part of the top sheet separating after a few days. But I just threw some epoxy in it with a clamp and it all turned out fine! I 100% recommend this board!
Jared R.

United States