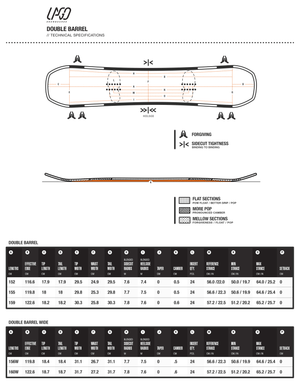 Customer Reviews
10/16/2022
Double Barrel
I've been snowboarding for 23 years. This is some of the finest quality that has been seen. Love the board!
Jessie F.

United States
07/11/2022
Best lumber around
I could build a house in twister alley out of these double barrels super strong yet very responsive ready for anything I'm going to throw at it!
tyler f.

United States
03/25/2022
Very Confident, Sick Looking Board
This is such a rock solid board that has handled everything I've thrown at it all season. From day #1 ice at Sunapee, to perfect groomers at Waterville, to deep powder days at Stowe, I haven't found a condition or element that has made me wish I was on a different stick. I say 'confident' in my title because this board gives true, locked-in, pedal-to-the-metal confidence at high speeds unlike any other board I've ridden. It's rather stiff, but that just means it truly "rails" the turns. As I've gotten into double digit-days on the season, I've been able to dial in my ollie on the stiffer ride. What I had previously thought to be "stiff" is now normal and comfortable. I also feel like this board has saved me on some sketchy heel-side turns. IDK if that's just how the asymmetry works, but I haven't felt so good heel-side turning on any other board. I've had a few occasions where my boot heel has lifted the heelside edge off the ground, but that's a binding problem. The board wants you to lean into those carves harder than your other gear can handle! My only critique might be... I don't know what this board is called? It says Double Barrel on the website, it says Double Barrel on this form, but the actual orange lettering says Doubble Barrel, WHAT'S GOING ON?! Oh, lastly... I let out an audible gasp when I took this thing out of the box because it had... Orange Sidewalls - SO SICK, and that's on top of the already unique graphics. Love the board! Now, make the Open Road at 154 or 155 and I might buy that one next :)
Ian V.

United States
03/09/2022
edge king
love the way this thing lays down on groomers. holds edges very well. also handles backcountry drops like a champ. stiff enough to drop 20ft and pull off no worries. 5 stars forsure!! thanks scotty!!
nicholas h.

United States
02/24/2022
All Mountain Gem
I am loving my new Lago Double Barrel 156W. At 57 years old and still riding hard & fast since 1985, just without the tricks. I needed a board that can carve similar to a race board with hardboots but has the comfort & versatility of a freestyle board & soft boots. So, this board carves beautifully and blows through the rough stuff at speed to boot. I'm thinking banked slalom beast for size 11+ boots. Camber! If you are a trickster too like Casey Willax, I am sure that the lively nature and snappy flex will not disappoint. This is a super high-quality board with all of the features one would expect from a pro-level ride. But at the price of a much cheaper constructed board, especially with the CWILLAX10 discount code and free shipping. A comparably constructed production board in a retail shop was going to be over $700 with tax. Really! P.S. The Furloh Deep Camo graphic are boss.
Lindsey H.

United States
02/10/2022
Amazing All Mountain Board
This board is the definition of an all purpose blade! This thing shreds powder, parks, and everything in between. The flex and pop are dreamy and the board feels super locked in at high speeds. This is the best all around board I've ridden. Do yourself a favor and get one!
Douglas W.

United States
01/15/2022
Sick Board!!
Scotty is the best and his boards are A1! Free shipping and super fast delivery. Had me on the mountain in no time. Thank you!
Edward C.

United States
01/15/2022
Double Barrel Dark Camo 156W
This thing is amazing! Used my Willax discount. After watching him shred these boards I pulled the trigger and got one to help a small company. And it was 100% worth the buy! Had to ride it before I could review it. I was extremely impressed by the overall look and construction of the deck. My first ride was at 0 degrees with a -20 degree wind chill. Living in MN we ride ice here. And I put this thing to the test in the park and runs. Carving was an absolute blast. The toe edge was a beast and first time riding with an A symmetrical heel edge. I could tell immediately how much better of an edge it could hold. Definitely gave the heel the confidence you want to have. For park and jumps it was very controllable. As the stiffness I really liked it, the deck is very responsive with great pop off with your ollie. I don't like noodle boards so the DB was the perfect board for the all mountain shredder! Looks 5 Construction5 Carve ability 5 Median stiff and very controllable. Highly recommend if you want to break away from the big box brands. Will be buying more Lago boards for sure! Congrats Lago team on the good work. -Ethan-
Andrea D.

United States
01/13/2022
Double Barrell - The One Man Army
I preordered this board a few months back, Scotty was great on communicating delays due to Supply Chain issues and continued to provide ETA's until the board hit my doorstep. The graphics are SICK. First day on hill was a dream, a ton of pop and exceeded all expectations. Will be looking to grab a LAGO powder board soon. If you're looking for one board to do it all on, this is it. Held it's own all across the mountain.
Bayley C.

United States